Plate Pak® Vane Mist Eliminators
Vanes, sometimes called chevrons, are parallel corrugated sheets held at a fixed distance apart to create a tortuous flow path for mist laden gas. As the gas flows through the vane, it changes direction, which we call 'passes'. The inertia of the heavier liquid droplets carries them into contact with the vane surface, where they adhere and coalesce into a liquid film. This layer drains off by gravity.
Capacity
Vanes can operate at higher gas velocities than knitted mesh mist eliminators. The Souders-Brown equation, a function of gas velocity, gas density and liquid density, is used to determine the appropriate flowing velocity for a given system. The Souders-Brown Equation is: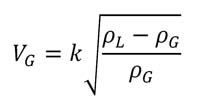 Where V

G

= Design Gas Velocity
           K = Capacity Factor
          ρ

L

= Liquid Density
          ρ

G

= Gas Density
The capacity factor is determined through experience and for each application. It is influenced by the type and style of mist eliminator, the relative geometry of mist eliminator to vapor flow, as well as process considerations such as operating pressure, fluid viscosities and liquid surface tension. Typical values are 0.5 ft/sec for vertical flow and 0.65 ft/sec for horizontal flow, assuming an air/water system at ambient conditions.
Styles
AMACS engineers can tailor the performance of the Plate Pak® Vane to meet your process needs. We have developed standard vane profiles for 4-Pass and 6-Pass vanes with either 3/8" or 1/2" spacing. We can also fabricate custom profiles with your choice of passes and spacing. We are happy to assist you in selection of the appropriate Plate Pak® for your needs.
AMACS Style
No. Passes
Plate Spacing
Thickness
Standard
VH-12 / VV-12
6
0.500
8
VH-12 / VV-12
4
0.500
5
VH-38 / VV-38
6
0.375
8
VH-38 / VV-38
4
0.375
5
High Capacity Multipocket
MPV-12
6
0.500
8
High-Performance Multipocket Vanes
Our patented Multipocket Vanes are the preferred solution for increasing the capacity of an existing vessel. We add multiple vortex pockets to the blades, which aids liquid separation and retention at increased gas velocities. This also allows much higher operating capacity than a similarly sized Plate Pak® or knitted wire mesh mist eliminator. The Souders-Brown equation from above is still used but the capacity factor may be 0.85 ft/sec for horizontal flow. In addition to higher capacity, the Multipocket vane also provides greater separation efficiency than a standard Plate Pak. Typical removal is 99.9% of 8 micron droplets, compared to a standard Plate Pak rating for 30 micron droplets. Its efficiency is on par with knitted wire mesh, with nearly three times the capacity for a given size. This also means that new vessels may be designed to be much smaller by choosing a high flow Multipocket Vane.
Materials
We stock 304/304L SS and 316L SS. We have the capability to make vanes from any alloy sheet. Some examples are: 317L SS, 321 SS, 410 SS, AL6XN, Alloy 20, Duplex 2205, Hastelloy C-276, Monel 400 and Titanium.