Knitted Wire Mesh Mist Eliminators are sometimes called crinkled wire mesh or mesh blankets. AMACS has manufactured thick pads of knitted wire mesh for use in the oil and gas industry since 1950. Knitted wire mesh is a cost-effective, reliable solution that is well proven and it continues to be used in modern equipment designs today. The knitted wire media provides surface area for entrained liquid droplets to strike, adhere and coalesce into a free flowing liquid film which drains by gravity. The Souders-Brown equation, a function of gas velocity, gas density and liquid density, is used to determine the appropriate flowing velocity for a given system. The Souders-Brown Equation is: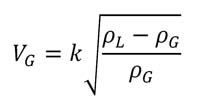 Where VG = Design Gas Velocity
K = Capacity Factor
pL = Liquid Density
pG = Gas Density
The capacity factor is determined through experience and for each application. It is influenced by the type and style of mist eliminator, the relative geometry of mist eliminator to vapor flow, as well as process considerations such as operating pressure, fluid viscosities and liquid surface tension. Typical values are 0.35 ft/sec for vertical flow and 0.42 ft/sec for horizontal flow, assuming an air water system at ambient conditions.
Mesh Styles
Filament diameter, filament surface area, pad thickness, and interfacial surface tension between the filament and collected liquid are the primary variables to consider in specifying a knitted mesh pad. The AMACS style 4CA is the industry standard general purpose mesh. It is rated to remove 99.9% of 10 micron droplets with 1" water column pressure drop, based on air and water at ambient conditions. We have developed many additional mesh styles to tailor the mist eliminator performance to your needs.
AMACS Style
Density lb/ft³
Wire Diameter lb/ft³
Patented Mesh Products
MistFix
Design Details Vary
MaxCAP
MistMaster
MistMaster II
Metal Single Strand Mesh
3BA
12.0
0.006
3BF
7.2
0.006
4BA
12.0
0.011
4CA
9.0
0.011
5CA
7.0
0.011
7CA
5.0
0.011
Metal Multiple Strand Mesh
S-200 / X-200
20.0
0.0045
S-100 / X-100
27.0
0.0045
Co-Knit Mesh
Fiberglass (SS / Fiberglass co-knit)
6BE
12.0
0.00038
Polypropylene (mono / multi co-knit)
8PP
5.0
0.0008
Dacron (SS / Dacron co-knit)
8D
12.0
0.0008
Teflon (SS / Teflon co-knit)
8TMW11
12.0
0.0008
Polymer Monofilament Mesh
8T (PTFE)
4.0
0.011
8K (PVDF)
6.0
0.011
8P (PP)
4.0
0.011
High-Performance Options
We have continued to develop new ideas to improve upon knitted wire mesh. We proudly offer high capacity options such as Mistermesh® and our patented MaxCAP® as well as our patented MistFix® Insertion Type Mist Eliminator. AMACS knitted wire mesh is available in a wide range of metallic alloys (ex. 304 SS, 316 SS, Monel, Alloy 20, Hastelloy and many more) and polymers (ex. Polypropylene, Dacron, Teflon) and Fiberglass.
Download: AMACS Mist Eliminator Brochure
Download: AMACS Mesh Vane Assembly Product Sheet »